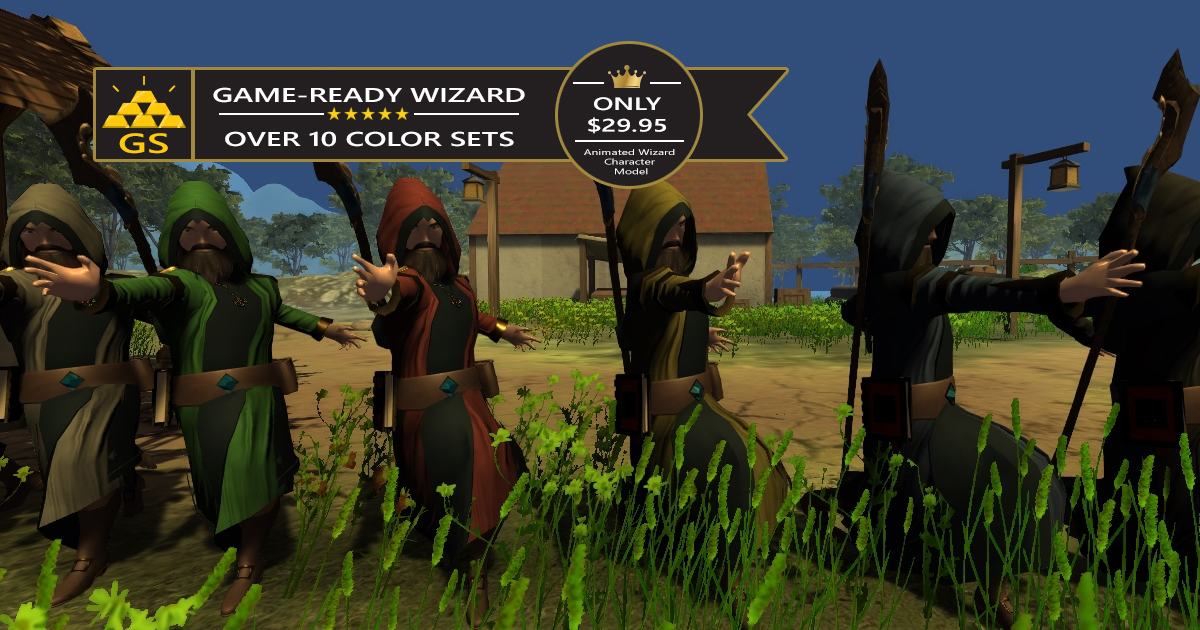 Animated Wizard Character Model
A downloadable asset pack
Need a high-quality Animated Wizard/Mage/Sorcerer/Warlock/Shaman 3D Character for your next big game?
Then Animated Wizard Character Model is for you!

Game-ready, this model is perfect for a first or third-character RPGs.
Working on something else? Not to worry, the model comes with animations and colors for different purposes and game styles! Check out the DEMO
Features:
- Compatible with Mixamo Animations (that's 100+ animations for FREE)
- 17 Robe Colors
- 4 Hair Colors
- 2048 Textures, Normal, Metallic, AO maps included
- Detachable Staff
17 Robe Colors included:
- Blue
- Red
- Green
- Yellow
- Black
- White
- Purple
- Grey
- Sky
- Orange
- 7 Special Mix Colors
Animations:
Unfortunately, list of animations was too long to include in here.
Not to worry, we have included links to Mixamo website for all animations used in the Demo in the README that comes with the package!
IMPORTANT! The animations in the video Demo are NOT included in the package because Mixamo does not allow us to sell the model with raw animation files for legal reasons. Not to worry, the package contains an .fbx file that is compatible with ALL of their animations (that's right, what you see in the Demo are just a few of the animations they have to offer)! Within minutes, you can get your hands on 100+ of top quality animations!
Have Feedback or a Question?
Email us at goldman.studio.supp@gmail.com and we will get back to you within 24 hours!
Purchase
In order to download this asset pack you must purchase it at or above the minimum price of $29.50 USD. You will get access to the following files:
AnimatedWizardCharacterModel.rar
382 MB